Professional Water Heater Repair in Oceanside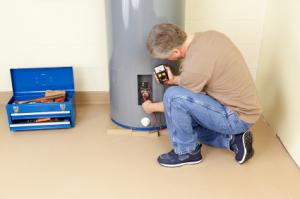 We offer Oceanside's best service and best prices on water heater repair and replacement, guaranteed! If your water heater requires immediate attention, call 760-512-1880 for immediate assistance. My Plumber offers full-service water heater solutions, including repair, replacement, maintenance, and installation. Whether you have a tankless point-of-service water heater or a traditional water heater, we'll find the problem, fix it, or install a new heater as soon as possible.
No job is too small and no job is too large. Whether your water heater has a pilot light that's gone out or whether the entire tank has flooded your home, our water heater repair in Oceanside team is on call and ready to help. To speak with a specialist, call 760-512-1880 now.
We Are Dealing With Any Water Heater Repair In Oceanside CA

With water heaters, lots can go wrong.
Valves can break or leak.
Pilot lights can go out.
Circuit breakers can trip.
Thermostats can break.
Sediment can clog drain valves or cause tanks to overheat.
Regardless of the problem, when your water heater goes out, you'll certainly know it when you take your next shower! We know how important it is to get hot water up and running as fast as possible. Our plumbers have years of experience working with every type of water heater on the market. For fast repair service on your broken water heater, call 760-512-1880 now.